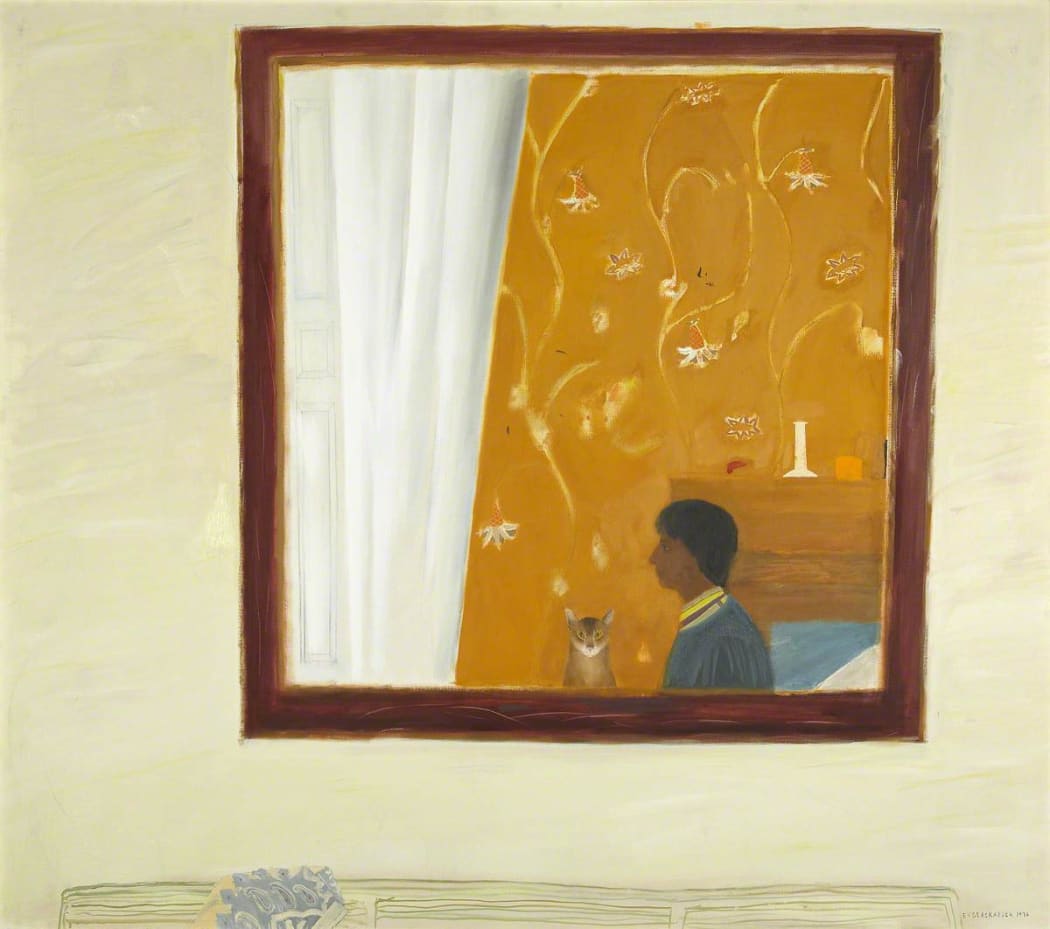 Elizabeth V Blackadder DBE, HON FRSE, RA, RSA, HON FRIAS
24th September 1931 – 23rd August 2021
It is with the deepest regret and sadness that I note the passing of Dame Elizabeth Blackadder on 23rd August 2021, just a month short of her 90th birthday.
Elizabeth had been unwell for some time and died peacefully at home where she and her husband, the late John Houston RSA (1930 – 2008) had spent many happy, mutually creative times producing wonderful work and entertaining their many friends.
Elizabeth was born in Falkirk and attended Edinburgh College of Art from 1949 to 1954, where she studied under Sir William Gillies and Sir Robin Phillipson on the newly formed Fine Art Course, graduating with a First-Class Honours Degree. She was awarded both a Carnegie Travelling Scholarship by the RSA and an Andrew Grant Postgraduate Scholarship by Edinburgh College of Art. She married John in 1962. In the same year she was awarded the Guthrie Award and was appointed a full-time lecturer at Edinburgh College of Art where she remained until her retirement in 1986.
She was elected as an Associate of the RSA in 1963, becoming an Academician in 1972 and elected to the Royal Academy of Arts in 1976 – the first woman to become a member of both institutions. In 1982 she was awarded an OBE for her contribution to art, which was promoted to a DBE in 2003. Elizabeth was appointed Her Majesty's Painter and Limner in Scotland in 2001. Throughout her illustrious career Elizabeth was an enthusiastic and staunch member of the RSA, giving of her time to serve on many committees, and Council of the Academy. She was a much loved and valued member of staff at ECA, committed to encouraging and supporting students not only through their time in college, but also afterwards through the RSA. Elizabeth was prolific in her output, not only in painting but also as a printmaker working with different master printmakers at Glasgow Print Studio, Edinburgh Print Workshop, and Peacock Printmakers in Aberdeen.
Elizabeth is recognised as one of Scotland's most distinguished artists, her exceptional legacy of wonderful work is held in public and private collections throughout the world. In 2011, her work was celebrated by a most impressive retrospective spanning six decades, which was organized by and exhibited in The National Galleries of Scotland to celebrate her 80th year.
Elizabeth was a delightful, quiet, unpretentious person and extremely modest about her work and achievements. She will be sorely missed by us all.
Joyce W. Cairns PRSA DEd(hc) HRA HRWA HRWA HRBA RSW