The Royal Scottish Academy has received a significant bequest from the estate of Dame Elizabeth Blackadder RSA RA (1931-2021). With a value of over £7million, the RSA Blackadder Houston Bequest will initiate a wide series of opportunities including new prizes, bursaries and travel awards for graduates and mid-career artists.
Based on Elizabeth Blackadder's wishes, the bequest will be invested to support a range of new initiatives that will be launched in 2023. Each year, over 60 artists will directly benefit from funding from the bequest.
RSA Blackadder Houston Bequest Awards
RSA Blackadder Houston Bequest Travel Awards - two annual awards of £3,000 for final year painting students at Edinburgh Collage of Art for international study.
RSA Blackadder Houston Bequest Travelling Scholarships - two annual awards of £5,000 for mid-career artists out of art school for at least 15 years for travel to promote research and development of practice.
RSA Blackadder Houston Bequest Scholarship - an annual award of £20,000 for a painter out of art school for at least 15 years (or equivalent time of substantive practice) to support a six-month career break or sabbatical.
RSA Blackadder Houston Bequest Bursary - an annual award to support postgraduate education for a Scottish painter graduating from Edinburgh College of Art for continuing studies elsewhere or for a Scottish painter to continue their postgraduate education at ECA.
RSA Blackadder Houston Bequest Publication Fund
The bequest will support a significant new publishing initiative focusing on the history of twentieth-century Scottish art and contemporary Scottish art. The Publication Fund will particularly look to support new titles about prominent artists who have not previously had publications produced about their practices.
RSA New Contemporaries
The bequest will contribute to the funding of RSA New Contemporaries, our annual flagship exhibition championing emerging Scottish artists. Each year a committee of Royal Scottish Academicians select the exhibition from the degree presentations of five Scottish art schools. Funding from the bequest will be allocated to the administration and marketing of this important exhibition which offers graduates their first major exhibition opportunity after their degrees.
RSA Blackadder Houston Study Collection
The RSA's Permanent Collection will house the Blackadder Houston Study Collection, preserving and caring for a comprehensive collection and archive of both artists' individual practices. It will consist primarily of paintings, drawings and prints as well as a wider studio archive. Researchers, scholars, curators and artists will be welcome to view the collection for study purposes. In line with the wishes of the artists, we will work to document, research and make the collection even more accessible in years to come.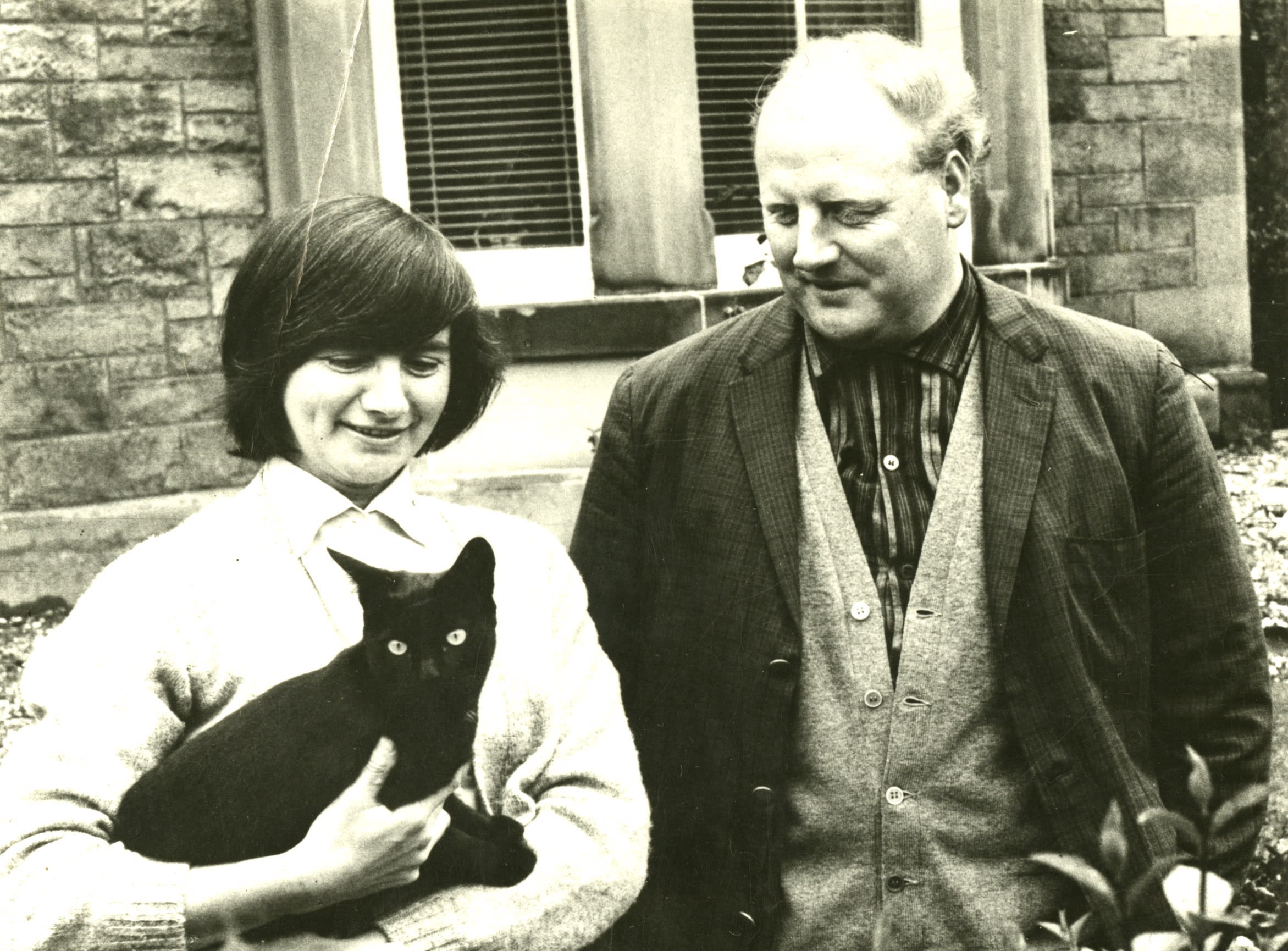 Elizabeth Blackadder and John Houston with cat, 1960s.
Elizabeth Blackadder and John Houston Exhibition at the Royal Scottish Academy
In August 2023 the RSA will celebrate the lives and careers of Elizabeth Blackadder and John Houston in a major exhibition focusing on their travels, research and studio practices. The exhibition will be an unparalleled insight into the work and lives of these two hugely influential Scottish artists. Avid travellers, the exhibition will trace the shared research interests and symbiotic practices of Blackadder and Houston. It will include works from across the breadth of both artists' career, with early drawings and paintings on view alongside masterworks from their mature periods.
Director of the Royal Scottish Academy, Colin Greenslade says:
'Elizabeth and her husband John Houston had a life immersed in art. From student-life in the 1950s through to their long careers as lecturers at Edinburgh College of Art and as practicing artists, their connections spanned generations. They formed a supportive nucleus at the heart of a wide circle of friends, students, colleagues, lecturers and fellow Academicians. It is wonderful that this support and encouragement will continue towards the artist community through this magnificent gift.
'Historically, the Royal Scottish Academicians and their families have enabled generous gifts to the Academy to provide vital support for artists through bursaries, travel awards and exhibitions. The scale of this latest gift from Dame Elizabeth Blackadder will enable unprecedented additional support to artists across a range of ages and experience. It will have a significant impact, widening this support to a greater number of artists on a continuing annual basis.'
The Trustees of the Blackadder Houston Trust say:
'We are pleased to make available a permanent collection of Elizabeth's and John's work to help researchers, scholars, curators and artists. We are delighted that the RSA have so comprehensively embraced Elizabeth's and John's wishes, to include exciting plans for scholarships and bursaries into the long-term future.'
15 December 2022